June 20-21 Silver/Gold show cancelled
Symposium with Stephen Clarke June 22-23
See Clinics page
OADG News Bulletins
Build a Better Dressage Horse Symposium with Stephen Clarke June 22-23
OADG Meeting June 14, 2013
2013 Show List – Updated May 17, 2013
June 20-21 Silver/Gold show cancelled
See the Shows page
Classified Ads – Updated May 17, 2013
Posted on the Horses page:
2000 KWPN Mare For Sale
Posted on the Tack page:
Schleese Triumph Dressage Saddle
Posted on the Apparel page:
Pikeur Diana Dressage Show Jacket
Dressage Canada 2013 Rules Posted.
Dressage competitors should be familiar with both Section A, General Regulations and Section E, Dressage.
Note that there may be changes in the rules from last year; please review the amendments to ensure that you are in compliance for the 2013 show season!
See Dressage Canada Rulebook page
Silver Championships Sun., Sept. 15, 2013.
After another very successful Silver Championship last September at Rainbow Ridge Ranch, Lynda Maltby and Steven Curtis have again accepted to host the 2013 Eastern CADORA Ontario Silver Championship.
Hoof Balancing – No Hoof, No Horse
Can't keep shoes on? Horse has a sore back? Hock and Stifle injections? Poor lateral work? Behavioural problems?
Negative Palmar angle leads to irrevocably crushed digital cushions
See Hoof Balancing page, under Resources
Motion Form
Got an idea for the OADG?
Take the opportunity to submit a motion to an OADG Director!
View details on the Motions page
Advertise your Clinics Here (Free)
Suggestions for OADG Clinics
Please send suggestions for clinics to
OADG Sling Bags
New! $10 each or 2 for $18 - see Store page
May be purchased at OADG promotions/display table at:
Spiritwood Shows
Ottawa Area Dressage Group (OADG)
The OADG is a regional, not-for-profit organization dedicated to the development of Dressage in the Ottawa area and its surrounding communities. It is managed on a volunteer basis by its members and a Board of Directors elected yearly by the membership.
The OADG is a chapter of the Canadian Dressage Owners and Riders Association (CADORA). The OADG is a Dressage Canada affiliated riding club.
For more background information see About Us

2012 Silver Championship Sponsors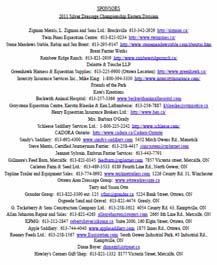 2012 OADG Banquet Sponsors